Since 1971 Tattoo by Jimmy Wong
Jimmy Wong is a living legend in the world of tattooing today. A master tattoo artist, Jimmy Wong has been tattooing in Thailand since 1971  and is known throughout the world.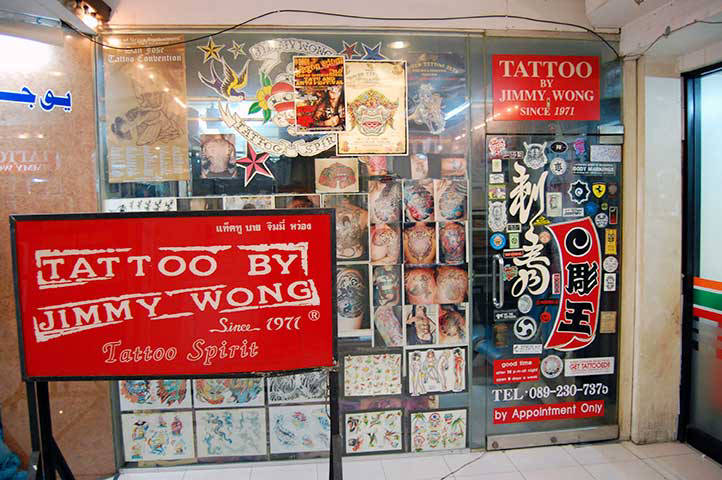 Tattooing over 47 years and befriended by travelers from the world over visiting Bangkok's Red Light district, Jimmy Wong has always worked during night time. Starting usually after 9 pm  and tattooing straight into the early morning hours Jimmy's relaxed approach and confidence as he tattoos shows the years of experience he has. Tattoo by Jimmy Wong studio has been a landmark in Bangkok for locals, tourists and tattoo artists wanting to meet this tattoo artist called Jimmy Wong.
Jimmy Wong's 3 sons (Jukku, Jack, Jay) and 1 daughter (Joy)  are all following in his footsteps with their own tattoo studios located throughout Bangkok boasting 5 locations,  "Tattoo by Jimmy Wong". Early this morning I spoke on the phone with my friend Jimmy Wong, a close friendship that has lasted for over 25 years. During our chat I mentioned the tattoo museum and asked if he would like to share his life with us. Without hesitation, Jimmy started talking about his collection of memorabilia he has saved over his forty seven plus career span tattooing.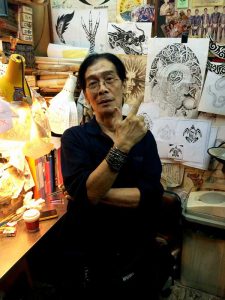 He spoke of  his very first business card, old tattoo machines, tattoo magazines he published, newspaper clippings, correspondence with tattooists, photographs alongside well known tattoo artists & stars, old needle making tools and of the many hand tools in his collection from Thailand used in Sak Yant.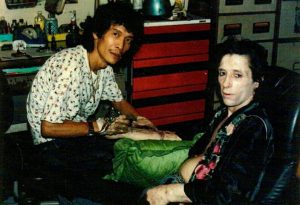 After ending an intense conversation of his fond memories, I reflected back my own memories of meeting him in 1992 in Bangkok. The bonding, the stories shared, his kindness and generosity that he showed me as a fellow tattoo artist will never be forgotten. Years later his son Juko spent a month in Switzerland tattooing in my studio as a guest artist.
The TMB is proud to announce that Jimmy Wong will be gifting many of these items he spoke of to the Tattoo Museum Basel, to become a permanent part of our ever growing collection of tattoo history.
ขอบคุณท่านอาจารย์