2nd Art Fusion Swiss Tattoo Museum Basel
Invitation Only
English/German/French
Sunday 25.07 we are having another Art Fusion at the Swiss Tattoo Muse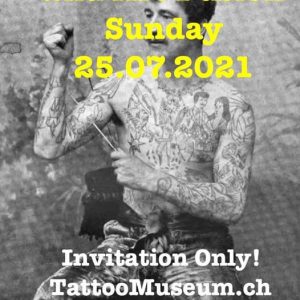 um in Basel … Invitation Only Event, to be broadcast on TV.
10:00 – 17:00
We expect 30-40 participating Tattoo Artists from CH🇨🇭
Food/Lunch  & Drinks are supplied… Vegan/Vegetarians welcome 😉
You are also welcome to invite other tattoo artists within your circle of friends. We also would like you consider bringing artwork, etc. to decorate our tattoo art gallery.
Every month we will be recognizing local artists in Switzerland 🇨🇭 and offer you a chance to sell your artwork.
You can also loan or donate to the museum tattoo memorabilia & other interesting items.
It's your museum, see more, do more…
The Swiss Tattoo Museum Basel is a nonprofit organization, the first Tattoo Museum in the world not in private ownership.
Support Tattoo Art in Switzerland 🇨🇭 Workshops, Art Events, parties and lots more.
It's time to become a member, want to  join us for the Swiss Tattoo Awards in 2022… get involved, be recognized.
Email us, text message or call
to confirm
Am Sonntag den 25.07. haben wir die zweite Art Fusion im Swiss Tattoo Museum Basel. Nur für geladene Gäste mit TV Ausstrahlung.
10.00-17.00 Uhr
Wir erwarten 30-40 Tätowierer aus der ganzen Schweiz.
Für Verpflegung wird gesorgt, auch für Vegetarier/Veganer.
Ihr dürft auch Tätowierer aus eurem Freundeskreis einladen. Wir fänden es auch toll wenn Ihr Kunstwerke von euch mitbringen könnt um unsere Tattoo Art Gallery zu dekorieren.
Wir widmen jeden Monat lokalen Tätowierern aus der Schweiz und bieten euch die Gelegenheit eure Kunstwerke zu verkaufen.
Ihr könnt dem Museum auch Artifakte oder interesante Gegenstände, zum Thema Tattoo, zur Ausstellung leihen oder spenden.
Es ist euer Museum! Mehr sehen, mehr machen.
Das Swiss Tattoo Museum ist eine gemeinnützige Organisation, das erste Tattoo Museum weltweit, das nicht in Privatbesitz ist.
Unterstützt Tattoo Kunst in der Schweiz! Workshops, Kunst Events, Partys und vieles mehr! Es ist Zeit Mitglied zu werden für die Swiss Tattoo Awards 2022. Nehmt Teil und lasst euch anerkennen!
Schreibt uns eine E-Mail, SMS oder ruft an um euch anzumelden.
Dimanche 25.07. – nouvelle édition de Art Fusion au Swiss Tattoo Museum Basel
Sur invitation uniquement – pour diffusion TV
10:00 – 17:00
Nous attendons la participation de 30 à 40 artistes tatouers venant de Suisse
Collations/repas et boissons fournis…. Nos amis végans et végetariens sont les bienvenus
Invitez vos amis tatoueurs à l'évènement! Nous serions ravis que vous ameniez votre art pour nous aider à décorer notre Tattoo Art Galerie.
Chaque mois nous voulons offrir de la visibilité à des artistes locaux en leur donnant la possibilité de vendre leur art
Vous pouvez prêter ou faire don au musée d'objets anciens, rares ou curieux sur le tatouage
Ce musée est votre musée! Venez voir, participez!
Le Swiss Tattoo Museum Basel est une association à but non lucratif, le premier musée du tatouage non privé au monde!
Soutenez l'art du tatouage en Suisse! Workshops, évènements artistiques, soirées et bien d'autres surprises vous attendent.
Il est temps de devenir membre, rejoignez nous pour les Swiss Tattoo Awards en 2022… venez participer, faites vous reconnaître
Confirmez votre participation via Email, message ou appel téléphonique